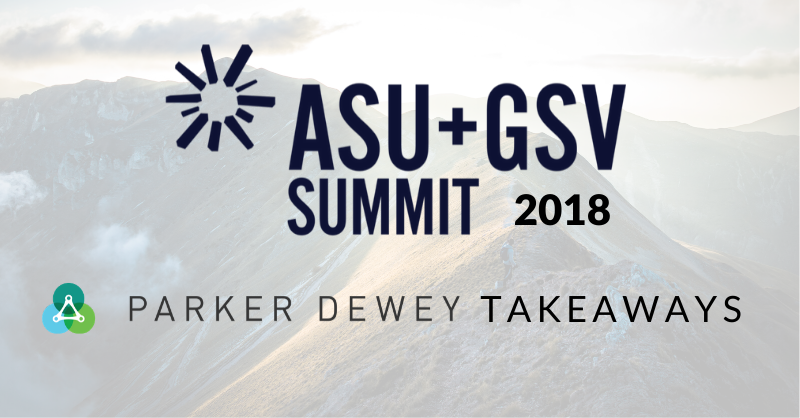 Four Key Themes from the 2018 ASU+GSV Summit
Earlier this week, the 2018 ASU + GSV Summit brought together over 4,000 industry leaders from across the learning and talent spectrum to elevate dialogue and drive action around raising learning and career outcomes through scaled innovation.
There was a lot for the Parker Dewey team to take in over the three day Summit, but here are the four key themes that resonated with us:
The need for crosswalks from classroom to career
There's no doubt about it, Higher Ed is under attack. Whether it's boot camps, badges, or any of the other proposed alternatives, four-year colleges and universities are in the crosshairs as the majority of students state that landing a job is the top reason for earning a degree. The appropriate response to these attacks is not vocationalizing traditional colleges and universities, especially given that the real benefit of college is not to prepare your students for their first job, but for their entire career. Rather, Higher Ed institutions can do a better job at providing value by creating crosswalks that connect what is learned in the classroom to the real world. This helps students better understand how those classroom skills translate to job responsibilities, and how to communicate those skills on resumes and in interviews. In addition, providing these crosswalks drives improved academic outcomes as students see their progression towards a successful career.
Employers are motivated to help
Employers want to hire "better," whether it means improving diversity, enhancing retention, or just finding those "diamonds in the rough" that are missed by others. Furthermore, employers are willing to invest in these efforts because of the business and social benefits they can bring to their organization. However, the tools employers are currently using to assess and evaluate candidates are not predictive of on-the-job success – there are just too many aspects that change every time a company makes a hire. (Plus, does a company really benefit when every sales rep, consulting associate, or product manager has exactly the same competencies?) Employers need better ways to determine if entry-level candidates can overcome real work obstacles, and are finding that GPA, school, and major just aren't enough.
Technology is only part of the solution
From talent management systems to alumni engagement platforms to student outcome programs, most of these tools are the modern day equivalent to a telephone and phone book: they provide a directory, process, and mechanism to communicate. However, like prior tools, the "ask" remains the same: "Tell me about a day in your life." "Will you make a donation?" or "Please come to our career fair."
Yes, we can benefit from upgrading our technology, but we still need to look closer at how we can provide "asks" that are beneficial to students, alumni, and employers. Can we help create a catalyst for a student to contact an alumnus? Can we provide a lower commitment way to engage a prospective employer? Can we help students see the benefit of classroom lessons for getting a job?
There's a need for "something less than an internship, but more than a task"
During the Future of Arts and Humanities in a Changing World of Work session, one of the panelists used this exact phrase, and of course it resonated with us. Recent research from the National Association of Colleges and Employers shows the top 5 skills employers want aren't things like coding, Excel, or accounting, that are taught in the classroom. Instead, employers want soft skills and need to work together with Higher Ed to provide opportunities for students to get the proper experiences. Given the Micro-Internship platform that we built at Parker Dewey, we clearly agree with this…
Here's a few more tweets I liked this week:
Experiential Education is critical to future proofing college graduates' careers - Northeaster's President Joseph Aoun ... Amen #asugsv18 pic.twitter.com/y0AD7uVq8G

— Farouk Dey (@faroukdey) April 18, 2018
"We need to treat college students as life designers rather than career explorers. We need to teach students how to work and connect." @faroukdey preaching the truth! #asugsvsummit #ASUGSV2018 #asugsv18

— Alex Hochman (@alexhochman) April 17, 2018
All algorithms have bias. How diverse is the group of people writing your code?? #Elevate2018 #asugsv18 @NPL_Alliance

— Susan T. Schmidt (@SusanTSchmidt) April 19, 2018
Great points from @PurdueLibArts @LoriSparger on how universities can do more to show value of Liberal Arts to students and employers. #ASUGSV2018 pic.twitter.com/6i4ElHSOIi

— Parker Dewey (@ParkerDeweyLLC) April 18, 2018
Thanks @ParkerDeweyLLC for providing an easier path to skill building..., and money-making!...opportunities for our students https://t.co/QztHYu567I

— UNCF CPI (@UNCFCPI) April 18, 2018