Click here for original post by Emily Carpenter on the NACE blog
Inspiration often strikes at interesting times, doesn't it?
As I was standing in line at my favorite burrito place recently, I realized the brilliance of their methodology. I love that place because I enjoy selecting my blend of ingredients and creating a uniquely personalized and tasty lunch.
This all being said, there are limited options on the burrito bar—five choices of proteins, four choices of salsa, two choices of rice, guac or no guac (ahem, guac please!), and some other carefully chosen add-ons. Someone has meticulously tested all the possible combinations and permutations (can this be my job in a future life?), predetermined the structure, and they can confidently let the customers pick and choose knowing that it's still going to lead to smiles, fullness, and high satisfaction levels.
So ... this led me to think about how higher education could take this wisdom and translate it to a student experience that grows prepared and confident alumni. Can we provide both the choice and structure that allows ALL our students to build their own amazing burritos? What would that take? What would be required of us?
CHOICE
There's only so much room on the burrito bar! Research tells us that too much choice is overwhelming, leads to indecision, and reduces of happiness (Schwartz, 2005) – but choice also provides a personalized experience and a motivation to engage (Marzano, 2010). In order to offer the optimum amount of choice, the institution needs to be laser-focused on some key experiences that it does well and then feature them front-and-center on the menu.
At Nazareth, we are all about experiential learning menu options—both the pre-professional kind (internships, practicum, student teaching) and the civic engagement kind (community service, service learning). We know they are high-impact practices (Kuh, 2008), and we've invested in earlier interactions and personalized career coaching to deliver a high-quality experience. This formula also allows us to notice when some of our students are missing key ingredients and reminds us to focus on accessibility and affordability so that everyone leaves with a full belly.
STRUCTURE
Once you've determined the options on your burrito bar, the remaining challenge is to provide a better dining experience that ensures students know how to order and, equally significant, they understand that a fat burrito is a better burrito.
At Nazareth, we have found that building a better college experience requires process integration, data capture, communication, and structure behind the scenes so that we know who's cooking which ingredients and we are able to present a cohesive menu.
It often feels like students (and colleges) put curriculum, career, and community engagement in silos, like plastic plates with partitions. Students know they need to do the curriculum piece in order to get their degree. Yes, thinking about career and community engagement are important, but they are often in the "when you have time/if you have time" category. This can lead to a mediocre kid-menu burrito only containing one or two ingredients.
The faculty and staff making the ingredients on the bar need to be familiar with each other's offerings. Together with some intentional built-in touch points throughout a student's time with us (using people and systems/technology), we can check on the burrito construction and encourage testing and trying (hey, they're paying for all the toppings – it's good to remind them to get their money's worth). We can be champions for overlapping the silos, for breaking down the partitions on the plastic plate and embracing a roll-it-all-up-together approach.
WRAPPING IT UP
Think about the students you know who really made the most of their collegiate experience—they passionately engaged in the classroom, they took a student club to a new level or won leadership awards for their contributions as an RA, they used your office early and often and completed several internships. I call these students "Triple Threat" grads – they made and ate their burritos with gusto and can elegantly articulate and translate these experiences to their next steps post-graduation. When you've carefully crafted and made possible some amazing options, students can't wait to jump in and start building. If your structure encourages a cohesive integration and the overlap feels like it's happening naturally, you'll find that your students not only make some magical combinations, but they go and tell the rest of the world about it.
How's the burrito building going at your school? I'd love to share ideas on both choice and structure.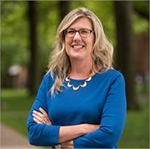 Emily Carpenter is the executive director of the Center for Life's Work at Nazareth College. The Center for Life's Work launched in August 2016 and combines the previously separate Career Services Office, the Internship Program, and the Center for Civic Engagement. Prior to this role, she was the director of Nazareth's college-wide internship program and an assistant professor in the School of Management. Before joining Nazareth in January 2012, Emily was the Director of Business and Finance Programs and Senior Associate Director in the Career and Internship Center at the University of Rochester. Outside of work, she is a mom of two boys, enjoys singing loudly in cars, going on new adventures, and eating outside when the Rochester weather cooperates.