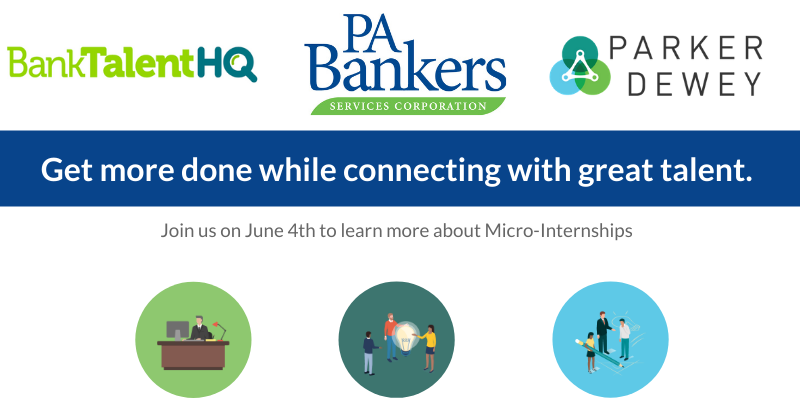 PA Bankers Micro-Internship Program
Estimated reading time: Less than 4 min
We are excited to announce the launch of the PA Bankers Services Corporation Micro-Internship Program! This program is part of BankTalent HQ's commitment to helping companies hire and retain early career professionals from colleges and universities nationwide.
Through this unique program, PA Bankers Services Corporation member banks have the opportunity to engage students and recent grads in Micro-Internship opportunities. These short-term, paid, professional projects allow students to demonstrate skills, explore career paths, and build their networks as they seek the right full-time role. Parker Dewey, the pioneer of Micro-Internships, is honored to partner with PA Bankers Services Corporation and BankTalentHQ to power this program and connect its highly-motivated, diverse network of students and recent grads to these opportunities.
Plus, members of PA Bankers are eligible for one free Micro-Internship sponsored by the PA Bankers Services Corporation. These will be awarded on a first come/first serve basis and are available until the dedicated funds run out. This program officially launches June 4, 2021, and PA Bank members are encouraged to post their project as soon as possible while funding is still available.
Interested banks can choose to post a project from the list featured here or create your own project based on what is most needed by your busy team. Still have questions? You can watch our webinar recording and see answers to some FAQ's below.
What are Micro-Internships?
Micro-Internships are short-term, professional projects:
Typically require between 10-40 hours of work
Due within a few days to a few weeks
Exist in any department within an organization, in any industry
Posted year-round
While the projects may not be the best use of time for busy professionals, college students and recent grads are excited to gain professional experience. As a result, not only do companies get on-demand support, but this also allows companies to connect with talent to see if the student is a good fit for a permanent role.
Here are some examples of projects that have been posted by other financial services companies:
To help you decide if a project can be completed by a Micro-Intern, check out this decision tree.
How do Businesses Use Micro-Internships?
Micro-Internships focus on solving the challenges many organizations are experiencing including:
Missed opportunities as existing employees have too many tasks and not enough time
Access to high caliber college students and recent grads who are excited about opportunities in Pennsylvania or who are from Pennsylvania and went to school elsewhere
Ability to drive diversity, assess fit, and ensure successful hires


Other FAQ's
Are these opportunities remote or onsite?
Both! Even before the COVID-19 pandemic, >90% of Micro-Internships were posted as remote opportunities. This makes the opportunity more accessible to students nationwide, and companies do not have to work through logistics such as security badges, IT, etc. For those companies who wish to have the student onsite, they can indicate this when posting the opportunity.
How does payment to the students work?
The students selected for these opportunities are employees or contractors of Parker Dewey for the duration of the project, and Parker Dewey handles payment when the project is complete.
What are the legal implications of these assignments?
Micro-Interns are under NDA, as is Parker Dewey, and the company owns the final product. Micro-Interns can also sign your NDA as well if you wish.
What if I want to hire the Micro-Intern for a long-term role?
Over 98% of Micro-Internships are completed successfully, so we see this happen all the time! There is no conversion fee if you want to hire the Micro-Intern for an internship or full-time role. As a mission-driven organization, we want this to happen!
How to Get Started
Click here to see featured projects posted for PA member banks, or you can create your own. Once your project is posted, you select the Micro-Intern you want to work with, and the work gets done!
If you have any questions or we can help in any way, please let us know.