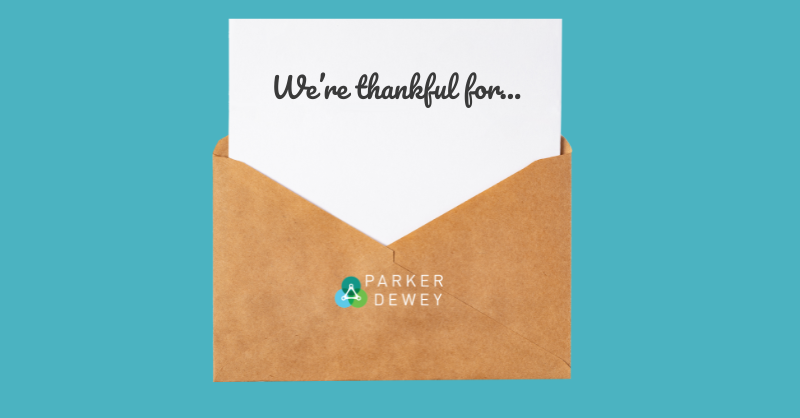 Parker Dewey's Month of Gratitude
I don't know if it is the rapidly approaching year end, the falling leaves, or just the Thanksgiving holiday, but November is always a great time for reflection.
As I think about what's taken place in 2022, it also seems like an opportune time to thank the many people and organizations who have been instrumental in improving outcomes for career launchers, post-secondary institutions, employers, and communities.
And while I am proud to have worked directly with some of these people, many are providing support, insights, and perspectives that have nothing to do with Parker Dewey, other than our shared goals. They support students and recent graduates in helping them launch their careers. They support colleges and universities in defending the importance of post-secondary education. They support employers in creating diverse, inclusive, and equitable workplaces. They support communities in their efforts to develop and retain local talent.
Follow along on LinkedIn this month as we recognize some of the individuals and organizations whose work has helped create better outcomes for all.
To kick us off, see the first post here.
In gratitude,
Jeffrey Moss, Founder and CEO
Update December 1, 2022:
Our Month of Gratitude may have ended, but we're still so thankful for the individuals and organizations across the nation working to improve the college-to-career transition. With so many advocates (often working behind the scenes) we're going to continue our shout-outs each week for #thankfulthursday!

Please join us in celebrating by following us on LinkedIn and liking and sharing all those making meaningful impacts.

View our 2022 Month of Gratitude posts: