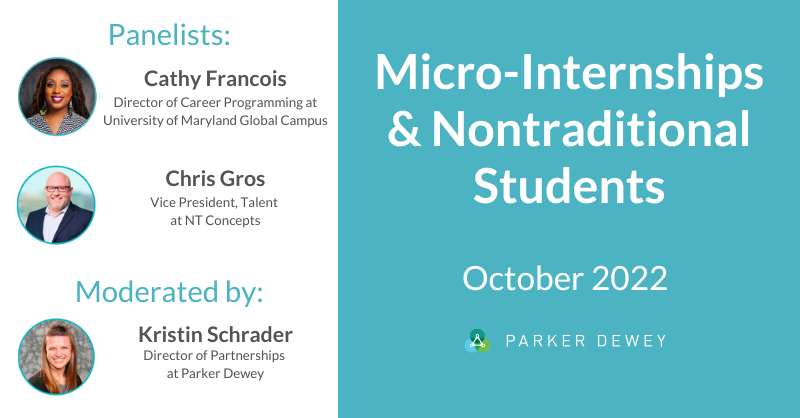 Micro-Internships for Nontraditional Students
The complexities around finding suitable candidates to join your team are endless and increasingly difficult. While your campus recruiting strategy may include career fairs, informational sessions, and on-campus interviews in an effort to engage as many college students as possible, it may unintentionally exclude nontraditional students—who comprise 75% of the 20 million college students in the U.S.
Nontraditional students are often left behind due to systemic challenges that prevent them from fully engaging in career services activities. Students are considered nontraditional for various reasons, a few being if they've delayed post-secondary education, have children, or did not receive a traditional high school diploma.
In a webinar moderated by Parker Dewey's Director of Partnerships, Kristin Schrader, Cathy Francois, Director of Career Programming at the University of Maryland Global Campus, and Chris Gros, Vice President, Talent at NT Concepts, discussed nontraditional students and career pathways.
Who are nontraditional students, and why Micro-Internships provide an accessible experiential learning opportunity
Nontraditional students include those who attend college part-time, work full-time jobs, have long commutes to campus, are first-generation college students, and come from low-income backgrounds. These realities create challenges for them, such as balancing school and financing their college education.
Cathy describes how nontraditional students have a lot on their plate, and traditional internships may not be viable for them due to their circumstances. That's where Micro-Internships are of great value,
"It's an opportunity to give our working adult population an opportunity to find experiential learning opportunities outside of traditional internships, about 50% of our student population are parents, over 90% of them are working adults, the median age is 27, so opportunities like this (Micro-Internships) work for our very diverse adult working population."
Chris shares that when he started at NT Concepts, he was tasked with creating a world-class intern program. Very early on, the organization decided to add flexibility to the internship program, recognizing that not everyone could participate in a traditional 8-week full-time summer internship, "we started looking for nontraditional students, though we were doing a customized internship, we found that we were still missing an entire population of people." The goal was to source nontraditional talent, and the focus was intense, "we became a certified apprenticeship program, we upped our hiring of military veterans, we've gone to all the boot camps that are out there to get certifications, and then we started working with Parker Dewey on the Micro-Internships."
Experiential learning projects that are career-oriented and based on real-world activities allow nontraditional students to develop and demonstrate their skills, aptitudes, and passions. At the same time, employees see where the candidate's talents can make the most significant impact in their organizations.
Why should employers want to work with nontraditional students?
Micro-Internships allow employers to get on-demand support from highly motivated college students and recent grads. Nontraditional students are excited to complete these assignments to demonstrate their skills and gain professional experience.
Cathy relates that UMGC's adult students are no strangers to the workforce and are ready to be an asset to the organizations they engage with, "about 90% of our students are working adults, so they have some level of experience, it may not be experience in their (employer's) field, but they bring a lot of transferable skills and opportunities like Micro-Internships really help level the playing field." Cathy explains that employers with a DEI recruiting initiative will benefit from implementing a diverse offering in the form of experiential opportunities through Micro-Internships, "a diverse offering like this really helps recruit students that they normally wouldn't have access to; many of our students are students of color, we have more African American students than all the HBCUs in the state of Maryland combined."
For Chris, the value of nontraditional students is immense. He shares, "nontraditional students have, hands down, been better than the other students (traditional), and it really goes to maturity and understanding what's important in life; there's a life experience to folks that have followed a nontraditional route that you just don't get out of somebody coming straight out of college. Not saying we don't like traditional students, we do, but there is a maturity that nontraditional folks bring to the table."
How to support nontraditional students
Experiential learning is vital for nontraditional students. Although many have work experience, they often pursue higher education to change careers, so they must build up their resume with new opportunities.
Cathy shares that she supports nontraditional students with these goals by working with employers that have career-launching opportunities, "an employer based out of New York opened up an opportunity in Baltimore called Diligent. They created a training program in partnership with SV Academy to help anyone, regardless of whether they have a degree or not, to build up skills to work in tech, such as working on the customer service side or the sales side of tech. Career Launcher opportunities that bridge the gap."
There's a high level of sensitivity to Chris's organization and what it works on; security clearances are required for many of its roles. Nevertheless, Chris elaborates on how this does not prevent NT Concepts from working with Micro-Interns. Chris shared the types of projects he's had nontraditional students work on and how they've added value,
"We had three Micro-Interns come in and help us put together a course catalog. We have a lot of things that we offer in the company on the learning development side, and we had it all in an excel spreadsheet. They came in and turned this excel spreadsheet into a beautiful course catalog that looks great from an internal perspective, and I'd be happy to share it anywhere. It looks like a college course catalog."
Micro-Internships are flexible, accessible, paid, and fit within a student's lifestyle
Micro-Internships are available year-round. Some are on-site, but most are fully remote. They're paid, flexible, open to all, and take 10-40 hours to complete; these factors make Micro-Internships a desirable option for nontraditional students, and they're reaping the benefits! Cathy shares,
"Our students understand the value of being able to demonstrate that they have experience in their field. Some of them, quite frankly, would do it for free, but it's even that much more attractive that it's a paid opportunity. Also, that adds a level of sense of responsibility as well, so they know they have some skin in the game and know that they're going to get something in return. That builds a level of motivation to deliver a quality product, as opposed to doing something for free."
Advice for nontraditional students
Chris further expanded on the value add of nontraditional students and how meeting them where they are benefits everyone involved:
"Don't sell yourself short. You are coming out with the most relevant recent experience in the market. When you talk to people at our company, NT Concepts, everybody loves our interns, the Micro-Interns, the regular interns, and the nontraditional. People understand the work that they put in. And a lot of that is work ethic. There's a hunger with folks that are doing these Micro-Internships because they're eager to come in and show what they can do."
Cathy inspires confidence in students by interacting with those who may feel they lack experience in a field. They may feel like a Micro-Internship is too big of a leap,
"I often interact with students that may feel like they don't have anything to offer. I often point to not only the work they've done academically but some of the work they've done throughout their work history. I help them connect those dots. Helping them understand those skills they've acquired in the classroom is an opportunity to apply those very same skills that you've been working hard in the classroom for, and just that one little experience can make a difference. Now they have a talking point at an interview."
Nontraditional students are passionate, hard-working, and eager to find the right role. Micro-Internships provide a substantial opportunity for organizations to source talent and work with students looking to launch their careers. Watch the full webinar replay conversation between Kristin, Cathy, and Chris.