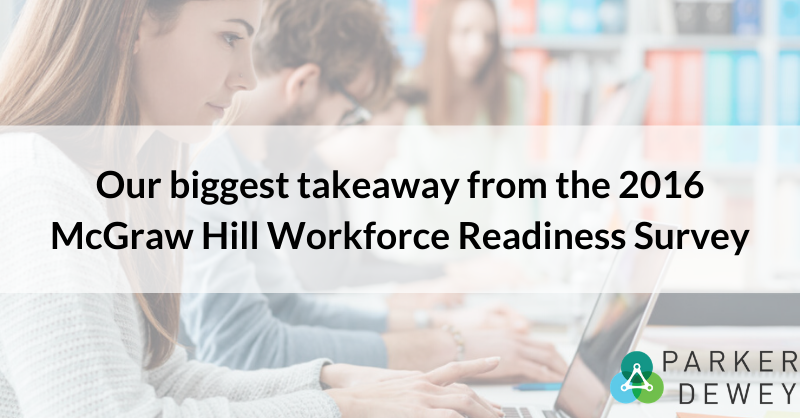 Our perspective on the McGraw Hill Workforce Readiness Survey - only 21% of college students feel prepared for a career
The biggest takeaway from my perspective on the McGraw-Hill Workforce Readiness Survey is that students' claimed a lack of readiness for careers (only 21% of all students and 40% of seniors feel prepared for a career), and this remains in line with the surveys from prior years.
As a result, there is a strong desire by students to:
Have more professional experiences;

Explore career paths to identify areas of passion;

Improve networking; and

Enhance and demonstrate soft-skills.
The impact is not just on students, but employers also feel the pain. Surveys of employers have shown perceived job readiness of recent grads to be as low as 15%. Furthermore, with the significant attrition or "job-hopping" of Career Launchers, it is more difficult for employers to commit to the training, on-boarding, and mentoring that is vital to positive career development. As a result, there is clearly a desire by all stakeholders (employers, students, and universities) to improve this.
While I am clearly biased, I am confident that Parker Dewey provides the ideal solution. Through our platform, a student can gain these experiences, explore career options to identify his or her passion, build a professional network, and demonstrate skills.
The impact goes beyond the students, as employers see significant benefits. When hiring a Career Launcher who has completed projects through Parker Dewey (for their company or others), there is an increased level of confidence not just in the skills and fit of the student, but also in the student's passion for that role - we help eliminate the "grass is greener" issue that drives so much turnover. Furthermore, employers are able to address other corporate goals around diversity, community support, and university engagement. No longer do employers need to rely on GPA, school brand, unproven algorithms, and flawed assessments (all of which are known to be poor predictors of career success), but rather can identify and evaluate candidates irrespective of their backgrounds.
There is a real problem around college-to-career transition, and the costs and impact are significant to students, companies, universities, and society. However, I do think this is a very solvable situation and the solution is at our fingertips. It is not through complicated algorithms, proprietary technology, or even charitable contributions, but rather through addressing the needs of the stakeholders in a way that does not create more work, add expenses, or limit flexibility. After working closely with our great university and corporate partners, we are confident we have this solution.
---
Overall, only 21 percent of college students feel very prepared for a professional career, mirroring results from 2015.
Arts and humanities majors also tend to feel less prepared for a career than students from other majors.
Respondents believe that interpersonal skills are most likely to improve their job prospects.
Respondents feel that their workforce readiness could be improved through more internships, more time for career preparation, and better access to preparation tools. Slightly more than two-thirds of respondents (67%) feel that more professional experience would have improved their career readiness.
Around a third of respondents listed more networking and better study technology as important components to prepare for a professional career. Nevertheless, the vast majority of respondents (89%) feel that college has been at least somewhat helpful in preparing them for a professional career. Overall, these results closely mirror 2015 findings.
Over three-quarters of students prefer doing what they love over being paid well. Similarly, 57 percent of students prefer to have a job that pays less but has a beneficial impact on society over a well paying job with no beneficial impact on society.