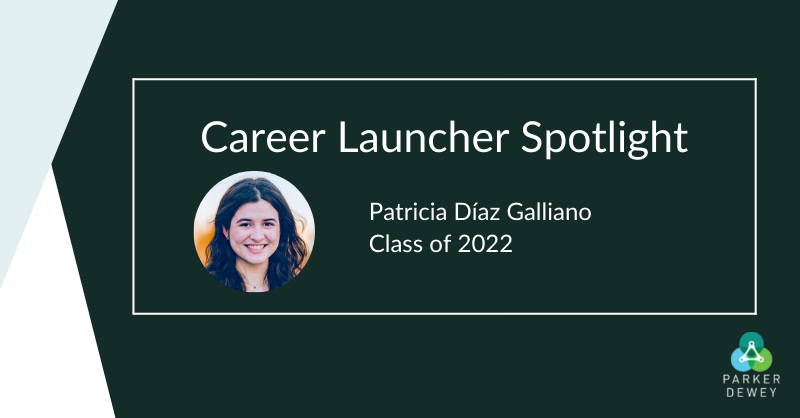 Student Success: A Life-Changing Study Break
Study breaks are a part of academic life. Some students use the time to stretch their legs, grab a coffee, or enjoy a snack. Others take the opportunity to scroll on their phones for a few minutes. In Patricia Díaz Galliano's case, she used that time to change the trajectory of her career.
A Normal Study Break
During a marathon session working on her thesis at the library, Patricia decided she needed a break. She checked her email, where she found a message from Career Services at George Washington University about Parker Dewey Micro-Internships through their GW Career Quest program. Intrigued by the opportunity to potentially earn a few hundred dollars for a week's worth of work, she immediately created an account, applied to a few opportunities of interest, then got back to work on her thesis. Patricia said something that appealed to her was how easy it was to apply.
"For other applications, it's so tedious to add every work experience I've had from the past 7 years. I think I applied for the Parker Dewey Micro-Internship in less than 7 minutes."
Patricia didn't give it another thought until a week and a half later, when she got the email that said 'Congratulations.' A mere half-hour after that, she was connected with her new Micro-Internship manager to solidify details.
The Opportunity
Patricia had landed a research opportunity with EY, and as early as the first check-in, her Micro-Internship supervisor shared that her project had the potential to be turned into a bigger company-wide report. Patricia was immediately on board, and they increased the time and pay attached to the project as the scope grew. For Patricia, the fact that her time was being compensated made a world of difference.
"Unpaid internships are so limiting. I need to pay for school, supplies, food, and that's just not sustainable with an unpaid internship. I've done them, but it makes it really hard to put in the time and quality you want to put out into the world."
With her finances accounted for, Patricia was able to put extra time and energy into the project, going so far as to recreate the EY's report template based on examples she'd found online, and then formatting her project's findings accordingly. Patricia revealed, "it felt like a bit of a risk putting in all that extra effort without being asked, but I decided to go for it."
She's glad she did, because her Micro-Internship supervisor was very impressed.
The Impact
Academically, Patricia was able to not only put what she had learned in class to real-world use for her Micro-internship, but it also allowed her to share her newfound perspective with her classmates. In Patricia's words, "It gave me a new lens to add to my scope of analysis."
Outside the classroom, Patricia also landed an interview for a full-time role with the same firm. From Patricia's Micro-Internship manager putting in a good word, to the level of familiarity she already had in the interview, Patricia felt that her Micro-Internship had a positive impact on every step of the process.
When asked about her Micro-Internship manager, Patricia shared, "I would have never expected someone I was just meeting to be so invested in helping me out, but he immediately said to consider him part of my network." She went on to clarify how this experience had allowed her to tap into something she had been missing. "Other people at GW come in with all these connections and you're in awe of how they lead to these cool jobs. Because of this Micro-Internship I felt like I finally had a connection like that."
In the actual interview, the Micro-Internship continued to play a role.
"My interview started by talking about the work I had done on the Micro-Internship. Because of that, they were already able to gauge how I work with the firm and the people. It was a great way to kickstart the conversation."
Patricia compared the experience to an interview she did with a different consulting firm where she had no prior connection. "That felt like I expected an interview to feel, whereas at EY it was a conversation because they already kind of knew me."
The Future
As you may have guessed, Patricia received and enthusiastically accepted an offer from EY. Patricia gushed, "I'm so excited to help others through EY. The type of work they do is the type of work I want to do." She will begin after finishing classes this summer and couldn't be more thrilled.
"To me, it's incredible that I've gone from applying to something on a whim during a study break to being a full-time employee."
Advice
For her fellow students, Patricia had this to say: "It's been an unorthodox way of getting a job. My friends are going through portals and first-round interviews and these long processes. I've been telling everyone in my network to apply for Parker Dewey Micro-Internships!"
Patricia also wants to make sure that employers know that this is a great way to reach unique talent. "The type of talent that you're attracting through a normal pipeline is the talent that every other company is getting. For Micro-Internships, you're getting someone who you know is curious about trying something different or untraditional."
Especially with Micro-Internships, you never know what difference a short experience can make. In Patricia's words, "Don't be afraid to embrace opportunity!"
---
Find your Patricia! Micro-Internships provide on-demand support while building connections to early-career talent.