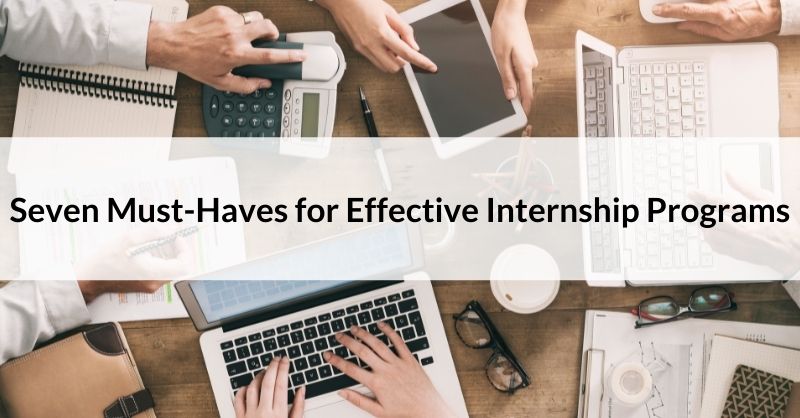 How to Create an Internship Program in 7 Steps
Internship programs are a great way to give your company a competitive edge in the job market. They also provide valuable experience for students looking to start their careers and can be an excellent way for companies to identify and assess potential employees.
We've compiled some highly effective steps to take when setting up an internship program that makes the process easier and more impactful for everyone involved.
Hire an internship program manager
To have an effective internship program, appoint someone to manage it and make necessary adjustments to improve its effectiveness. This professional will help you navigate the process of finding and screening candidates, create a detailed internship plan, and ensure that your interns have a positive experience aligned with the goals and vision of your organization.
A program manager can help supervise interns even if they're not who will work with them directly throughout the engagement. While you can opt to hire someone from the outside, one of your existing employees may be the best choice as they can expose interns to coworkers in various departments.
Research your state's internship laws
It is essential to research your state's internship laws to ensure that you are compliant. Each state has different laws governing internships; therefore, it is vital to be familiar with the specific regulations in your state.
You can create a program that meets all legal requirements and provides a positive experience for the interns and your business.
Set achievable and realistic goals
Setting achievable and realistic goals for your internship program will ensure a successful engagement. Set challenging and ambitious goals, yet make sure they are achievable for interns and your existing team. Help interns set goals around growing and learning new skills.
Goals to set for your program include:
Increasing employer brand awareness among college students and early-career professionals
Generating new ideas from interns to help improve the company's products or services
Fostering a positive image of the company among interns
Developing future leaders and employees by

giving interns real-world experience
Goals that an intern might set for themselves include:
Gaining practical experience in their chosen field
Improving their communication and teamwork skills
Learning new software or programming languages
Increasing their understanding of the inner workings of a company
Making connections and networking with professionals
Create an application process
Creating a well-organized and efficient application process is essential. A clear and concise application process can ensure that only the most qualified candidates apply for your program.
Cover letters and resumes often don't do a satisfactory job identifying the best interns. Consider posting a Micro-Internship; you'll be able to customize your internship interview questions and determine the best candidates based on the skills a candidate can bring to your organization, even with limited prior experience.
Assign a mentor
Connecting interns to mentors in your organization will help them feel more comfortable in their new surroundings and better understand their job duties. Additionally, mentors can provide valuable insights and help interns develop their skills as they learn about career paths and your industry.
Prioritize intern development
An internship may be the first professional work engagement for many candidates who apply to your program. To ensure that your interns are getting the most out of the experience, have regular check-in meetings and ask interns about what they've learned and their progress. Check out our internship project evaluation scorecard, which will assist you in giving interns feedback and evaluating their performance.
Keep in touch with interns
After completing their internship, maintaining communication with interns is integral to creating a successful program. Using Micro-Internships is one way to keep college students engaged throughout the school year. You'll continue a working relationship with the intern as they complete their degree and weigh career opportunities post-graduation. You may decide to hire an intern in the future if they excelled in the past and would be an exceptional addition to your workforce!
As the largest network of highly motivated college students and recent graduates who are excited to complete short-term, professional assignments, we know internships!
Our mission is to provide meaningful opportunities for Career Launchers to add to their resumes while helping organizations get work done. If you're passionate about this too, please join our email newsletter Hire Learnings, and follow us on social!