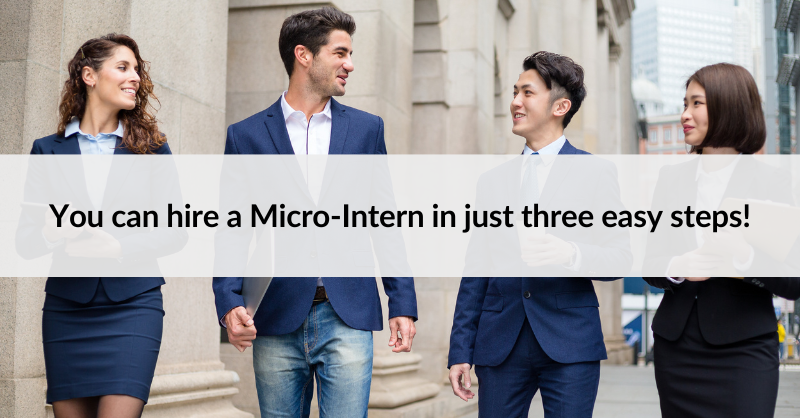 Hiring a Micro-Intern is as easy as 1-2-3!
When you or your team are hard at work, on a deadline, and could use an extra set of hands, it's essential to obtain the proper support to achieve your goals on time.
Whether you require on-demand help, project-based assistance, or ad-hoc support, our quick 3-step process to hire Micro-Interns will help you access and engage the best applicants eager to join your company and help you cross the finish line.
Our 3-step hiring process is efficient in helping you find the talent you need, no matter the role, industry, or company culture. Micro-Internships are:
Easy: Designed with busy professionals like you in mind, Parker Dewey is simple, as there are no HR or administrative burdens.
Practical: These are short-term, paid, professional assignments similar to those given to new hires or interns and help you see candidates in action.
Scalable: Micro-Internships can be used year-round to find on-demand project support due to their short-term nature.
Step 1: Define your need
Define your project's deliverables; this will help you clarify the nature of the project. You can specify if you're interested in on-demand project support alone or if the project can lead to future opportunities and longer-term projects.
Example: We will provide you access to an accounting system, give you source documents such as bank statements, and would like you to review entries, enter missing data, reconcile activity between intercompany accounts, prepare supporting schedules and reconciliations (accounts receivable, fixed assets, prepaid expenses, etc.). You will work on 20 bank statements in total.
Step 2: Choose a project
For a limited time, you can post up to five 15-hour Micro-Internships at no cost to your organization thanks to the fully-funded Frederick A. DeLuca Micro-Internship program.
If you're a campus recruiter, get help this busy campus recruiting season with campus club research, job specifications review, content creation, email marketing campaigns, sourcing candidates, brand ambassadors, competitive analysis, and much more! Don't miss our on working with the brightest minds on campus.
Our project library has a wealth of finance & accounting, sales & business development, human resources, research & strategy, operations, IT & cyber, and marketing pre-scoped project templates for you to choose from.
If our templates do not meet your project needs, you can create a custom project and ensure you specify the deliverables, required skills, goals, and scope.
Once posted, your project will be open to thousands of early-career candidates. As candidates begin to apply, you can review their applications and choose the candidate with the suitable skill set to complete the job.
Step 3: Receive a completed project
Once the Micro-Intern has completed all your specified deliverables, the Micro-Internship is complete. You can provide feedback and let them know how they performed. In addition, if you want to hire them when they're done, there are no fees or obligations.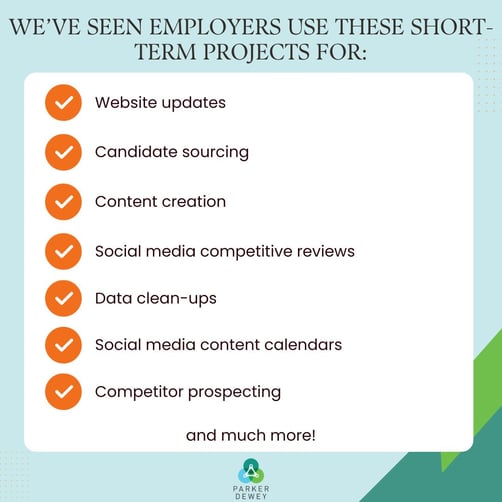 Employers nationwide are reaping the benefits of working with Career Launchers on Parker Dewey for all their business needs.
Avoid getting overwhelmed, and optimize your time by working with our highly skilled Micro-Interns. Not only will you obtain the support you need, but you will also get to assess candidates and build a talent pipeline.
If you have any questions or need help scoping out your project, contact us today to get started.