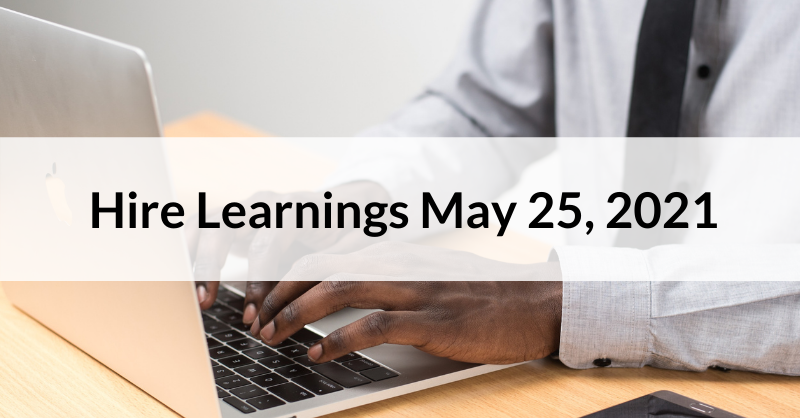 On Harnessing the Power of Remote Work
Last week, I received some questions on important research from Matthew Hora about the challenges of online internships. Having participated in this study, I wanted to share my thoughts.
While the headline, "Online Internships Fail to Meet Expectations" may grab attention, in no way does the research suggest that online internships are bad—it shouldn't be a surprise that remote internships aren't as valuable as those onsite. Even as the pioneer of remote Micro-Internships, I've been saying this since day one. The real value of remote internships is as a complement that supports access and career exploration prior to the traditional 10-12 week onsite summer internships or full-time role.
Companies should harness the power of remote work not as a replacement for on-site programs, but rather as a valuable recruiting tool to identify, engage, and assess college students as candidates for traditional internships and full-time roles.
To that, the report also highlights a decrease in the number of opportunities for students, disproportionately impacting those from diverse and other underrepresented backgrounds. Certainly there were some organizations that didn't/couldn't make the shift to remote; however, in contrast, Parker Dewey saw a 5x increase in the number of remote Micro-Internships during 2020, as these companies harnessed the power of remote work as a university recruiting tool—not a replacement for interns or new hires. The results were increased diversity, improved conversion, lower cost per hire, and better retention.
As we all know, the data is the data, but the interpretation can vary widely. Does the data suggest remote internships are "bad," or does it suggest that many companies did a great job in responding to the global pandemic last summer? Does it suggest that remote work limits opportunity and equity, or does it highlight that not enough organizations leveraged its benefits? Does it suggest companies should stop offering remote work experiences to college students, or does it show that there is a significant opportunity for remote, professional experiences such as Micro-Internships to be a valuable tool in their campus recruiting strategies?
While I look at the data with optimism, I think Noel Arellano—a recent Texas A&M grad and Dell Scholar who completed several remote Micro-Internships while in college—captured it best:
"I gained several skills and learned so much from my Micro-Internships, which prepared me for my traditional internship, as well as for the workplace today. Many people during COVID struggled to work from home and to communicate with fellow coworkers. On the other hand, I was prepared for it, without even realizing it. Since I had completed Micro-Internships with people in different countries, very different time zones and cultures, I had learned the importance of written communication, the power of online platforms like WhatsApp, Slack, and Webex, and the importance of being flexible with your schedule when working in a team. Online internships for me were a launching pad to the next level of my career and I'm better off for having partook in them."
And if you want to read the full report which has a ton of great data, you can do so here —I'd really appreciate your feedback and thoughts on it.
Jeffrey Moss, Founder and CEO
---
Articles of the Week
It's Time to Ban Unpaid Internships - Forbes
How to Build an Inclusive Recruiting Process with Skills-Based Hiring - Parker Dewey
Diversity efforts falling short in accounting and finance - Accounting Today
Why Your Referral Program May Be Hurting Your Diversity Efforts - Inc.
---
It's Time to Ban Unpaid Internships - Forbes
"Unpaid internships create racial and economic disparities surrounding one of the single most important experiences of student development and work-readiness. And no student, university or employer should tolerate or allow the practice any longer."
It's time to end the practice of unpaid internships: They perpetuate socioeconomic divides and inequity. And while the argument against them is nothing new (we talk about it at Parker Dewey all the time), new research during the pandemic only strengthens the case for paying interns.
Related reading: Why Unpaid Internships Hurt Companies As Well As Students
---
How to Build an Inclusive Recruiting Process with Skills-Based Hiring - Parker Dewey
"To establish an inclusive recruiting process, organizations should stop or limit the practice of filtering out candidates based on non-predictive factors like GPA, school, and major. Instead, start attracting high-potential, diverse and non-traditional candidates by updating job descriptions to focus on the skills individuals need to succeed on the job, rather than credentials."
As innovative companies seek to recruit top talent and create a competitive advantage, inclusive hiring practices are more important than ever before. Consider these five steps to creating an inclusive recruitment practice with skills-based hiring.
Related reading: How Skills-First Hiring Supports DEI
---
Diversity efforts falling short in accounting and finance - Accounting Today
"'As an accountant, I love my measurements. I think that in all things you need to set up a baseline. If it's around diversity in particular, you should have a baseline of where we are, where we're trying to go, and what progress we're making. But I think the more important measurements really are around inclusion and equity.'"
The accounting and finance industry reports difficulty in retaining employees from diverse or underrepresented backgrounds—so how can companies improve DEI efforts to create a more inclusive environment for all? This article suggests some strategies to use as a starting point.
Related reading: How to use Micro-Internships for diversity, equity, and inclusion recruiting initiatives
---
Why Your Referral Program May Be Hurting Your Diversity Efforts - Inc.
"To be clear, I'm not saying that you need to get rid of your referral program. The key is to open up the aperture of the kinds of people you're asking for referrals. Are there ways you can ask people from different groups inside and outside your organization to participate in your referral program more so than the ones you have turned to in the past?"
Is your referral program helping or hurting your organization's DEI? This article breaks down the unintended consequences of referrals. (And if you're looking for a way to expand your recruiting network, Micro-Internships are a great place to start!)
Related reading: How Companies Can Avoid a Homogenous Workforce
---
For more stories and insights on HR, recruiting, and diversity, click here to subscribe to our weekly newsletter Hire Learnings.