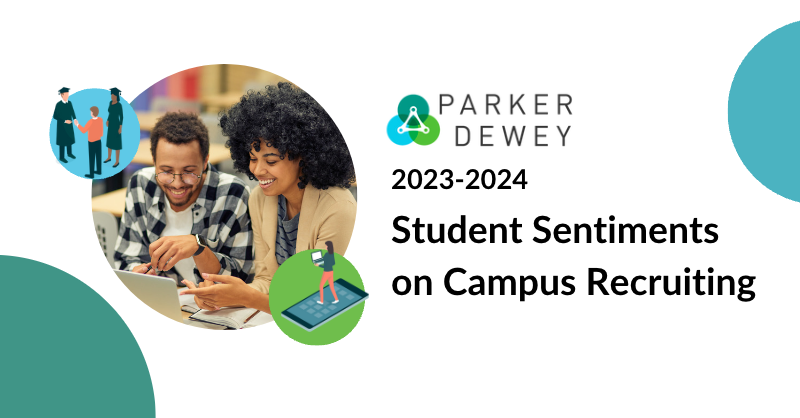 2023 Student Sentiments on Campus Recruiting
This spring, Parker Dewey reached out to more than 100,000 students across our nationwide talent network to understand how they prefer to engage with prospective employers. Both early-career talent and recruiters are experiencing the challenges of a volatile labor market. A constant finding in our current and past surveys is the student's need and preference for a real, paid work experience with an organization to explore career opportunities, demonstrate skills, and build authentic relationships with employers to secure the right job after graduation. Access the full report now >
95% of respondents rated "real, paid work experience with an organization" as their preferred method of engaging with employers, allowing them to build, develop, and demonstrate their skills. In addition, real work experiences positively influenced their decision to apply and helped them build professional connections.
Students shared valuable insights into when they start their career planning, the goals they hope to accomplish when participating in campus recruiting activities, and their biggest obstacles in the job search process. 77% of college students indicated they started to think about their career plans during their second-year or earlier, and 45% indicated they'd like to explore roles of interest through experiential learning opportunities. The biggest obstacle students identified to getting a job was not having a network of professionals to support them in their search.
To help campus recruiters optimize their strategies, we asked students about their participation and perceived value of popular tactics. 74% spend time looking at job ads, but only for employers they are already familiar with. 53% utilize campus career services and use the guidance to apply to employers they are already familiar with. 50% attend career fairs, and do utilize these events to learn about employers they were not previously considering, but fail to build their network or skills. Meanwhile, 81% of students are interested in Micro-Internships to gain experience, learn about employers, and build their professional network.
As you begin to plan for the next academic year, this report will help your organization better understand how the early-career, high-potential talent you're seeking views your efforts—and how you can best support students in launching their careers.