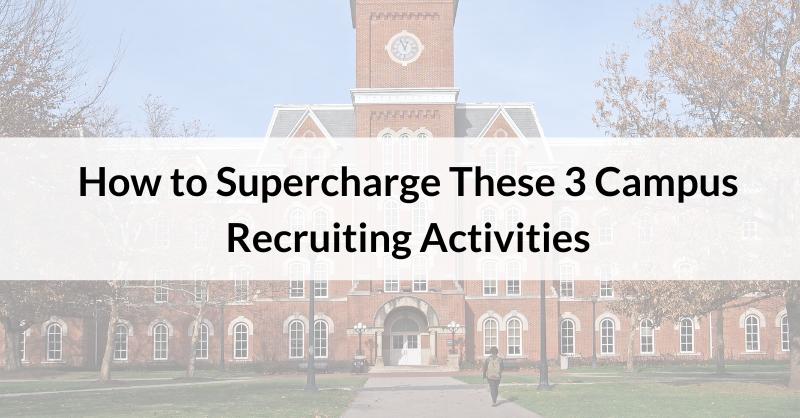 How to Supercharge These 3 Campus Recruiting Activities
Campus recruiting has long been an invaluable source of early-career talent. For years, recruiters have relied on traditional methods like career fairs, information sessions, and resume reviews to connect with students eager to embark on their professional journeys. While these tactics have their merits, they often fall short in establishing deeper connections and providing a comprehensive understanding of a candidate's potential. But when combined with Micro-Internships, campus recruiters can maximize the impact of already-in-place strategies—unlocking the full potential of these events. Read on for tips on revitalizing three key campus recruiting activities.
1. Career Fairs
College career fairs have always been pivotal events for students eager to kickstart their professional journeys. But like most strategies in the traditional recruiting playbook, they have their limitations—like only allowing for a brief, surface-level student and employer interaction. When paired with experiential recruiting strategies, however, career fairs can become a powerful tool for sourcing candidates and building brand awareness. Here's how.
Like career fairs, information sessions have long been a go-to strategy for employers seeking to attract top talent. These sessions offer a platform to introduce students to your organization, share insights about your company culture, and present career opportunities.
While info sessions can be useful for students and employers, they're often brief and don't allot enough time for real connections to form. But when paired with Micro-Internships, info sessions can help you engage students in an effective, meaningful way.
Campus recruiters also often host resume review sessions, offering students valuable feedback on their resumes and sharing insights about their organizations. While resume review sessions allow you to briefly assess candidates, meet students, and offer guidance, they often have limitations: They often offer only a snapshot of a student's potential, lacking the opportunity to gauge their skills and growth potential for specific roles. This is where Micro-Internships come into play.