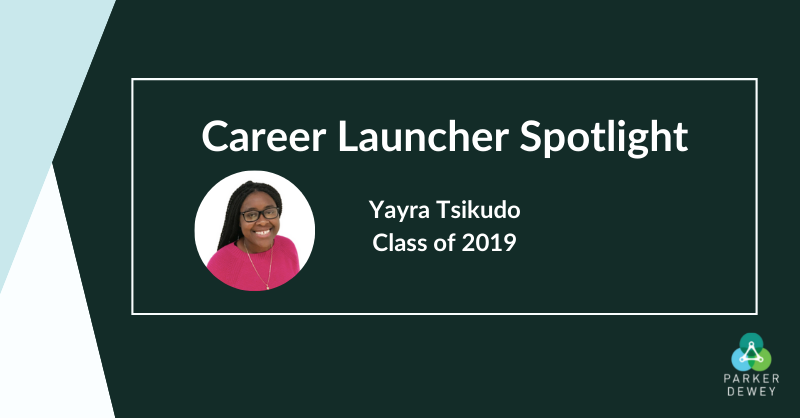 Student Success: Micro-Intern to Full-Time
Yayra is a 2019 graduate of the Chicago School of Professional Psychology Master's program and someone who has seen success with Micro-Internships through Parker Dewey. Her experiences led to a long-term position in HR with her current employer while she completes her Ph.D. in Business Psychology.
Having the perspective of a student and now an HR professional on the Parker Dewey platform, Yayra is full of insights that may help guide students and companies considering Micro-Internships.
Q: How did you hear about Parker Dewey?
Yayra attended an HR networking event where she had a conversation with Parker Dewey's CEO, Jeffrey Moss, and first learned that Micro-Internships are short-term, paid experiences offered by companies for students.
A few months later, she was a student employee at The Chicago School of Professional Psychology's Career Services office. Her university was considering partnering with Parker Dewey when her supervisor asked her if she had ever heard of Micro-Internships, to which she replied "Yeah, I've heard about it because I met Jeff a few months ago!"
That prompted her to complete her profile on the platform and start applying to Micro-Internships—one of which led to her current position.
Q: How did time management have an impact on your Micro-Internship?
Flexibility is paramount when it comes to juggling a part-time job, completing a Ph.D., and managing day-to-day responsibilities. Yayra leverages the structure of her Ph.D. program to carve out the time needed for her current role in HR. Keeping calendars up-to date with class times, deadlines and meetings creates a sense of structure to build additional opportunities around.
"I try to structure my time, I'm not necessarily rigid, more flexible, by knowing what I have to get done."
Communication has also been a key player in Yayra's success so far. Having developed rapport with her supervisor through completing multiple Micro-Internships, she's able to maintain an open dialogue between being a student and a professional, even in a remote environment.
Q: What advice do you have for other students on the platform?
Yayra says that patience will pay off in the long run if you're a student on the platform, as there are many talented students applying for Micro-Internships. Being persistent and open-minded with the process will pay dividends in the long run.
"You may not hear back right away, be patient with the process."
Another tip from Yayra: "Fill out the whole profile and include your resume. Keep applying!" Sharing unique details about yourself, your experiences, goals, and your personality can help you stand out for the right opportunity.
Q: How have Micro-Internships impacted your career?
Yayra completed two Micro-Internships under the same supervisor. Her projects focused on recruiting projects and researching organizational structures. She went into her Micro-Internships with an open mind, knowing that anything could happen.
"I didn't go into it with an agenda or anything. If anything, I know I'm getting paid, I'm getting experience, there are so many possibilities beyond that. I just saw the project and thought, 'This is interesting, this relates to what I want to do career-wise' and so I applied for it and it went really well."
Through completing her projects, she developed positive relationships with her colleagues, which made the decision to join the team long-term an easy one for both Yayra and the company.
Q: What advice do you have for companies considering Micro-Internships?
"Do it!"
Keeping an open mind has also benefited her from an HR perspective. Micro-Internships offer companies the opportunity to complete smaller projects that may not be the best use of time for senior-level talent. Since the projects are short-term (some lasting only one week) the commitment is low for both the student and the company if the fit isn't right.
Yayra also recognizes that Micro-Internships are an opportunity to reach students from multiple backgrounds and bring valuable perspectives to your company: "Sometimes you're working on a project and just need a different perspective on it or somebody else to help on it."
Q: What's it like having the perspective of a student and an HR professional with Micro-Internships?
"From an HR perspective, it's a great way to get diverse people into your organization. Being a student, it's a good way to get experience, network, and make money, too."
Yayra's company started using Micro-Internships as a recruiting strategy. She says the platform benefits supervisors by giving them the opportunity to work with potential direct reports but without any long-term commitments. Meanwhile, students and recent grads get the opportunity to learn different work styles and expand their network.