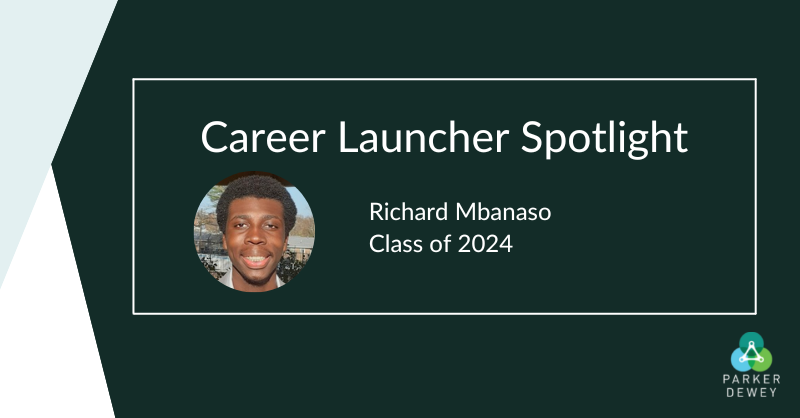 Micro-Intern Success: Making the Most of an Academic Break
In the Spring of 2022, Richard Mbanaso, an International Business Major at Howard University, was thinking ahead to the summer and how he could use the break from classes to progress his career. A sophomore at the time, Richard was determined to get professional experience before starting his junior year, and began applying to internships. Unfortunately, the opportunities Richard had applied to didn't pan out, and Richard feared his plans for an impactful summer were dashed. Then, his advisor explained to him that Micro-Internships were still an option.
Year-Round Paid Opportunities
When Richard's advisor brought up Micro-Internships, he was excited to learn more about the opportunities, especially since they were paid. Richard knew that he had to maximize his summer break to set himself up for a successful junior year, and part of that preparation simply had to include making money to help cover the cost of tuition and other expenses.
"There were a few unpaid internships Howard sent me, and I'll be honest, I did not look at them because it's not realistic to ask someone to work for free."
Richard also appreciated that unlike traditional internships, which are typically lined up months in advance, he could potentially apply for a Micro-Internship and get selected and kick off the project that same day - and that's exactly what happened when Richard applied for a project with a global training and strategy consulting firm focused on equity, diversity, and inclusion.
Exploring the Unknown
Despite a long-standing interest in global affairs, Richard hadn't been aware of the firm he did his Micro-Internship with before finding their project on Parker Dewey. This ability to find and connect with companies that Richard hadn't encountered before was another reason he appreciated his advisor bringing Parker Dewey to his attention.
"I liked that there were smaller companies on the platform. There were maybe one or two companies I was familiar with, but the rest I'd never heard of prior to applying."
Richard's project involved creating social media content for the firm. When Richard first saw the project, he almost didn't apply because in his words, the project "didn't really go with my major at all". However, Richard was determined to make new contacts and build professional experience, so he ultimately decided to submit an application, and is glad he did!
During their kickoff meeting, Richard learned more about the topics for the posts he would be creating.
"It wasn't just creating posts for a firm. I was creating content that was targeted to and celebrated diverse demographics. Diversity, equity, and inclusion is something I've always been interested in, so the details really resonated with me."
While the project had initially seemed unrelated to Richard's career goals, he quickly realized that the Micro-Internship had not only made him aware of a firm and led to new contacts that were relevant to his career aspirations, but that his academic background also allowed him to make meaningful contributions to the project, even highlighting content possibilities that his supervisor hadn't been aware of.
Building Design and Time Management Skills
Richard was particularly excited to be spending his summer actively applying his skills to a professional goal.
"My Micro-Internship was my first professional experience actually doing work. I had had an externship before where I observed, but this was the first time I was actively contributing something."
Not only was Richard contributing, but he was also learning along the way. Richard admitted that although this project was his first time working with Canva, "the experience helped me grow as a designer. I learned as I went." The skills Richard learned served him well in producing his final Micro-Internship deliverables and have also made him more competitive and effective in the opportunities he's pursued since, including his current internship at a real estate company.
"I was able to use these skills to put together a slide deck for my internship and I felt confident in being able to make that look nice, and that was all because of the Parker Dewey Micro-Internship experience."
Richard also contrasted the development he experienced during his Micro-Internship with the summer he would have had if his advisor hadn't let him know about Parker Dewey.
"I learned technical and conceptual skills that I wouldn't have gotten at a summer job. The things that I did with Parker Dewey I'm using in my internship, in my classes, and with my on-campus organizations."
Richard's design abilities weren't his only skillset that benefited from his Micro-Internship experience. Richard also highlighted the many lessons about time management, recalling that he met with his supervisor once or twice a week if he needed additional check-in's or clarification, but it was up to Richard to determine what he needed from his supervisor and articulate it. Richard found that his supervisors' clear expectations and deadlines helped him learn how to set a schedule for himself.
Richard's Micro-Internship experience also showed him the impact of flexibility on his own productivity, and allowed him to contrast that experience with the traditional internship he's in now.
"In the Micro-Internship, I met with my supervisor once to understand the expectations and then was set loose to work on the project. My traditional internship is a lot more structured. There are pros and cons to both, but I really loved the flexibility of the Micro-Internship. I was able to work when my schedule allowed and when I felt motivated."
Advice for Companies
In Richard's words, companies who are considering using Micro-Internships have "everything to gain and nothing to lose". The students and recent graduates applying for these opportunities are hungry for experience, and like Richard, will be excited to learn new skills and submit work that is of the highest quality. Richard also highlighted that there are benefits to building relationships with talent as they're trying to get their start in the professional world.
Advice for Students
Richard highly encourages his fellow students to check out Micro-Internships, regardless of what point they're at in their academic careers, or even if they're currently engaged in a traditional internship.
"Even if I had gotten that summer internship, I think I would have applied for a Micro-Internship. They're very time-friendly. I can choose when I want to work as long as I get it done. No matter where you are, this can help boost your experience. Even projects that don't seem directly related to your field."
---
See how your organization could benefit from building relationships with early career talent by posting a Micro-Internship.