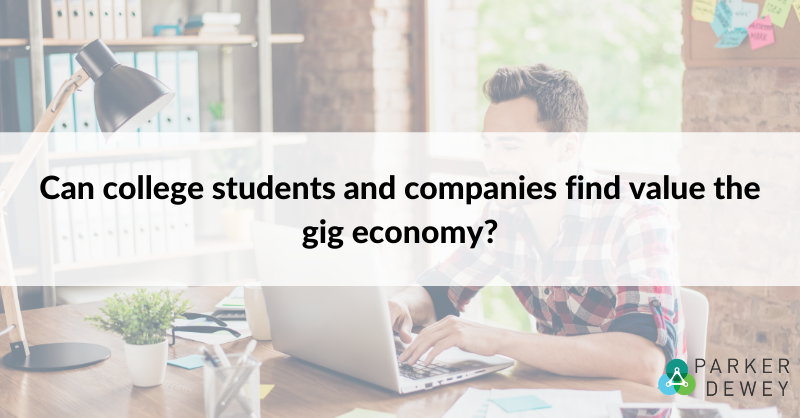 When college grads enter the gig economy, should we shudder or cheer?
When I saw this post from George Anders, I cheered. By viewing gigs as a pathway, the value to college students goes beyond the money as it lets them demonstrate skills, explore career paths, and build their networks while they seek the right full-time role upon graduation. For companies, the value also goes beyond the work as they can identify and assess talent in a more authentic way, thereby driving enhanced diversity, improved hiring effectiveness, and better retention.
"Another valuable reminder comes from National Lewis University, based in Chicago, where most attendees are first-generation students on tight incomes. As NLU's student success coach, Marlee Benton, points out, these students already participate in the gig economy. Many rely on an assortment of temporary, part-time jobs in restaurants and other front-line settings to cover their bills. What these students need is help finding better paying and more prestigious ways of putting their talents to work.

Colleagues are ready to help. It turns out that the University of Cincinnati this autumn will launch a campus-wide exercise aimed at helping students find upbeat language to describe their part-time jobs and project work in more impressive ways. If restaurant menus can make even a grilled-cheese sandwich sound like a succulent and artisanal delight, there's no reason students can't bring similar sparkle to their resumes and LinkedIn profiles. Look for the hashtag #TheWayYouSayIt, in months to come."
Read the full post "When college grads enter the gig economy, should we shudder or cheer?" from George Anders here.