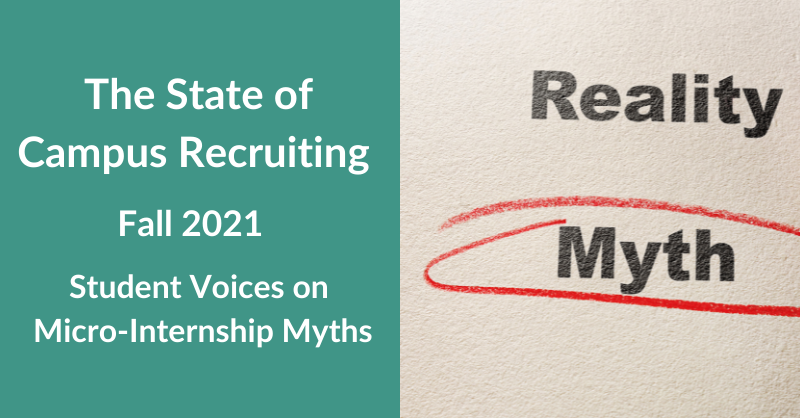 Micro-Internship Myths, Part Two: The Career Launcher Perspective
In Part Two of our Micro-Internship Myths series, we sat down with three student panelists to hear the firsthand Career Launcher perspective on Micro-Internships and address campus recruiters' top concerns.
This webinar builds on our 2021 Campus Recruiting Student Sentiment Survey, where 93% of students rated "real work experience with a company" as the most important and valuable recruiting tactic. Panelists elaborated on why experiential recruiting is their preferred way of engaging with prospective employers and learning about industries, companies, and roles.
Student and recent graduate panelists included:
Annie Earnshaw, Elon University '21
Noorto Mohamed, University of Vermont '21
Rohit Naya, Babson College, MBA Candidate
Read on for the complete synopsis of the conversation, including key takeaways and quotes from our panelists. In addition, the replay is now available on demand.
(And for Part One of Micro-Internship Myths, head here!)
---
How College Students Learn About Careers
Working with college students and recent graduates nationwide means we hear a lot about what's working, and what's not, when it comes to learning about careers. Likewise, campus recruiters are always looking for ways to reach students, and stand-out from other employers. So we started our conversation with Noorto, Annie, and Rohit by learning about how each has engaged in their job hunt, what they have done to explore careers and gain skills, and how they discovered Micro-Internships.
Annie: The main thing I did was scroll job boards. I looked on every job platform I could find to determine what jobs were available and skills employers were looking for so that I could learn what a prime candidate would look like. On top of my job search, working with Parker Dewey allowed me to get a taste of many different industries.

Noorto: Since graduation, I realized that I not only used the skills of my degree, but I am also utilizing other unrelated skills as well. I wanted to build my resume and explore different jobs because I was not completely sure what I wanted to do yet. Once I started with Parker Dewey, I realized other skills I have such as social media and web development that I had not touched on before.

Jeffrey: I love how in your responses, your majors are not sounding like a job title. Parker Dewey is like a crosswalk to get you from one stage to the next, allowing you to hone in on new skills. Rohit, how are companies engaging you in comparison to the past during undergraduate?

Rohit: During undergraduate, I was set on automation for a while and connected with recruiters in that field. I soon shifted, however, and my new focus was on research and development which led me to the path of where I am now in entrepreneurship. What I like about the exploration process is that even when you don't have a specific idea of what you want to do, it is always good to keep trying things to hone in on what it is you really enjoy.

Annie: I wasn't doing a lot of exploring, I wish I had thought about it though. I was very set in what I wanted to do. I was doing a lot of exploration in the types of fields I was interested in and not doing internships which is something I wish I would have put more focus on.

Rohit: When I was an undergraduate, the career process was done completely in person, which is very different from how things are done now. Now, even though you can connect with anyone around the globe, which expands the amount of opportunities, you are missing that personal connection that is made when meeting face-to-face.

Noorto: I think the career exploration process has become much more overwhelming. Online recruiters are taking a long time to get back to you. I wanted to do more internships throughout college, but it is difficult to make that time and financial commitment. Parker Dewey definitely helped out with the commitment barriers.
With an opportunity as short-term as Micro-Internships, it can easily be thought of as a way for employers to get someone to do their grunt work. However, this is not the case according to the student's experiences.
Rohit: I don't view Parker Dewey's opportunities as grunt work. It consisted of a lot of intellectually challenging work rather than just getting things done. I think that some employers might see Micro-Internships as an opportunity to get small amounts of work done for them, but for us it is much more than that. Employers are getting to see how their hires work within a small time frame. Parker Dewey is like window shopping for students, but paid!

Noorto: I didn't view them as grunt work. All of the projects are very well-defined and detail what the specific tasks will be. This alleviates anxiety for us and takes some of the pressure off. They give you space to express your creativity. The micro-internships are simple but still challenging, and the guaranteed pay is encouraging.

Annie: It was not grunt work. The tasks for each opportunity are clearly defined, which is very attractive to people searching for a career. I feel as though the employers I've worked with are not simply just looking for someone to get the job done, but instead are looking for a collaborator.
Assessing Career Launcher-Employer Fit In 10 Hours
As discussed in part one of our webinar series, employers often ask us if a short-term project is really enough time for a candidate to get to know a company, and vice versa. Our panelists agreed that a short-term project provides enough time and opportunity for a mutual audition: Career Launchers get to explore a company or industry, demonstrate skills, and build a relationship, while employers see potential talent in action.
Annie: With a 10-hour project, you're likely going to work about seven or eight hours on the project, but about two hours is spent on a video call or emailing or back and forth with your supervisor. You can learn a lot about a person in a very short amount of time. It is enough time to get a sense of working styles, how you collaborate. With a 10-hour project, there is a beginning, middle, and end, so you can clearly see your progression over that short amount of time.

Noorto: It is definitely enough time to dip your foot in and gather insights on that specific employer. Once you are accepted for the project, you can get a sense of their hiring and screening process, what kind of candidate they are looking for, and what the project is.

Rohit: Employers get the chance to see how students perform on a well-defined task in a short amount of time. The small timeframe also tells about the work ethic of the student, their efficiency, if they give feedback or how well they receive it. These projects are what you make out of it from the perspective of employers. From the student perspective, the 10-15 hour schedule is enough to give you a glimpse into what it is like to work at this company. It is better than a regular interview because you are immersed in the company.
Panelists also shared that a 10-hour project lends itself to building relationships with employers.
Annie: These Micro-Internships taught me a lot about how to build relationships because it was such a short amount of time. I also learned the importance of setting clear expectations. This is key, and it's important to be honest about your mistakes in relation to that.

Noorto: I learned how to communicate and frequently check-in with my employer. Parker Dewey is a great place to figure out these communication skills and hone in on them as opposed to in the workforce later on.
How Micro-Internships Complement Internship Programs
For Career Launchers, Micro-Internships can serve one or multiple purposes: exploring careers, developing skills, building relationships, or making some side income. Across the board, however, Micro-Internships are not a direct replacement for summer internships—but a complementary tool.
Annie: I did not do any summer internships since I was set on graduate school. Since I did not end up going, I saw Micro-Internships as a great way to still get experience that I missed. Parker Dewey gave me that opportunity to still participate in internships and gave me a taste of the whole process. I see the Micro-Internships and regular internships as equal, they just serve different purposes. Summer internships are more focused on a specific career since they are longer.

Noorto: I didn't see it as a replacement for a summer opportunity. I was working while I was completing my Micro-Internships, and there was the opportunity to have a long-term internship while still completing one for Parker Dewey. Micro-internships focus more on your skills than your background, which is great for exploring and discovering new career paths!

Jeffrey: Parker Dewey works hard to level the playing field in terms of your background. We want to get to know students based upon who they are and how they would approach the project rather than what their GPA is or where they went to school.

Rohit: It is not a replacement. It comes down to what you expect out of the internship. A great aspect is employers can reach more students in a lot less time. Micro-internships are much more fun for me than long-term. Long-term internships, on the other hand, are much slower and I expect a lot less from them.
And when it comes to looking beyond internships to long-term roles, panelists shared that Micro-Internships help support them in the interim.
Noorto: I am currently in search of a full-time job, so I am in a transition period. Parker Dewey has been helpful during this time where I am figuring things out and has provided pay as well. The option of these Micro-Internship opportunities becoming full-time has also been very encouraging.

Annie: Parker Dewey is allowing me to pursue my other passions. I have been freelancing in writing and hope to pursue that further. I see freelance as a backbone to support me while I am building my career.

Rohit: I am counting on my Micro-Internships to help me in the future. I am still exploring roles, and Parker Dewey is helping me narrow down my interests. I don't want to commit to a long-term job and leave two months later. These Micro-Internships help me during my downtime to figure out what I want.
Parting Advice for Students and Employers
Noorto: We are more skilled and creative than we give ourselves credit for. Learn new skills and dip your foot in, it is never going to hurt. For employers, put your opportunity out there because it is very helpful for us but also you.

Annie: Trusting my gut has never steered me wrong, and we know more than we think we do. My mom always says, "if it's not a hell yes, then it's a no." You know what the right choice is, so trust yourself.

Rohit: If you are looking for opportunities just for money or getting some work done, you are missing the point. Look at these opportunities as a process to get you to the next step. Employers should also look at these opportunities as more than just getting some work done. You could find your next star employee!
Interested in hearing about Micro-Internships from the hiring manager perspective? Check out part one, where we heard from three employers on their experiences hosting Micro-Internships.
---
See more insights for recruiters and hiring managers in the 2021 Campus Recruiting Student Sentiment Report!