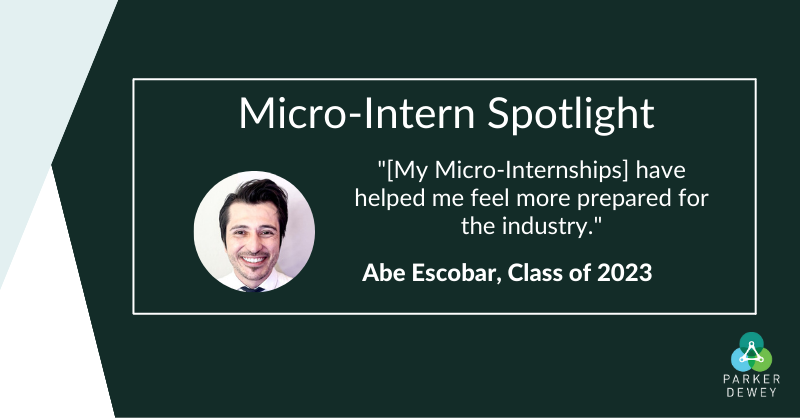 A Real-World Outlet for Classroom-Backed Skills
There's lots of talk about the value of higher education and whether it actually prepares students for the world of work. At Parker Dewey, we're firm believers that students and recent graduates are equipped with the skills they need to be successful in the workforce, but the greater challenge lies in students understanding how their unique combinations of strengths, interests, and newfound skills fit into the workforce. Micro-Internships give them an opportunity to apply all of the above to a real-world project, and prove not only to companies, but also to themselves, and those in their network, that they are able to make meaningful, individual contributions. This was the case for recent University of Nevada, Las Vegas (UNLV) graduate Abe Escobar.
A Winding Road
As Abe described his career journey, it became clear that he's a jack of all trades, and in a positive way. The young professional, who recently graduated from UNLV with a degree in Digital Marketing as well as a bootcamp certification from ThriveDX, feels that linear career journeys are increasingly rare.
Especially as a first-generation student, Abe has kept an open mind about pursuing new fields and interests as he's become aware of them, and his career journey has reflected his openness as he's gone from working at an entertainment-focused start-up to building SEO, SEM and social media marketing skills through his UNLV degree and the ThriveDX bootcamp.
Applying Skills
When Abe first learned about Parker Dewey Micro-Internships through a webinar hosted by ThriveDX, he saw the short-term, flexible, paid projects as a chance both to explore, as well as to apply some of the skills he'd already been learning in his program and bootcamp. From the webinar, he'd learned that it was normal to apply to a few projects before being selected, and was prepared to do so, but was pleasantly surprised when he was selected for the first project he applied to. Abe positively compared his Micro-Internships to his start-up experience.
"This felt more professional right away. I started immediately knowing what the deliverables and the goals were, and I got to dive in while still knowing how to reach out if I needed clarification."
Abe's first project involved researching the best location for a company's robotic product, and Abe was eager to dive in, sharing, "The robotics project seemed like a great opportunity to practice research strategy."
In the same semester, Abe was also selected for a creative project in which he helped design game cards intended to encourage fun and physical activity for children. Like the first project, Abe found the experience easy to navigate and to fit in his schedule, noting that his supervisor had all the assets he needed ready for him at the first meeting.
Abe was also excited to contribute to a project that he found so meaningful, and enthusiastically shared that roughly a dozen new locations would be using the game cards for the Special Oopplympics.
"I get to say that I was part of that, and I love that feeling. It's exciting to see that my skills contributed to something tangible."
Abe's genuine enthusiasm for the company's mission also led him to go above and beyond by offering additional insights outside of the project's original scope, and in doing so, further prepare himself for a career in social media marketing and management. Abe shared, "I was able to see the way the company was using social media and give additional suggestions and tips."
Sharing Experience
With permission from the companies, Abe enthusiastically posted about his Micro-Internship experiences and outcomes on LinkedIn, and discussed his progress with one of his professors, who took note of Abe's ambition, passion, and skills. So much so that the professor offered Abe a part-time role as a content producer that Abe began shortly after graduation. Abe is grateful that the role allowed him to continue building experience while conducting his full-time job search.
"My Micro-Internship experience definitely played a role in being selected for my content producer opportunity. During my monthly meetings with my instructor, I was able to talk about these projects, and he was impressed by the work I was doing. I think that these experiences, in combination with the project management I was doing through his class for an outside client, made a difference."
Abe also highlighted the impact his Micro-Internships had on his own sense of readiness and confidence, sharing, "They've helped me feel more prepared for the industry."
As Abe conducted his full-time job search, he continued to apply for Micro-Internships to further broaden his experience and prepare for a career in social media management. His hard work, previous project experience, and perseverance led him to being selected for yet another Micro-Internship with a company that has been so impressed with Abe's work, they offered him a full-time role before he even finished the project! Congratulations on your new role as a Social Media Manager Abe!
Advice and Lessons Learned
Abe has two tips for current and prospective Micro-Interns. The first is to use the resources that Parker Dewey makes available to you, and the second is to let your ultimate career goals and interests shine, even if they don't seem directly related to the project. Abe highlighted how the Parker Dewey kickoff meeting resources helped him manage communication.
"I used email templates from Parker Dewey to reach out and send follow-up emails right away about deliverables, timelines, and expectations. I made adjustments to make it my own, but it was a great guideline to make sure I was on track."
Abe also highly recommends going above and beyond when you see an opportunity. Sharing his passion for social media and offering suggestions, even though that wasn't part of his initial project, is both why the company Abe worked with will likely keep him in mind for future projects, and also contributed to his professor offering offering him a part-time role. It showed ambition, passion, and know-how, and these are all attributes employers are looking for.
"Don't be afraid to ask if there are additional projects they could use some help with, especially if the original project isn't directly related to your target field, but you see an opportunity. Going above and beyond could lead to additional opportunities for you or your peers, and some great experience for your resume."
For companies, Abe has seen nothing but positive outcomes, and enthusiastically encourages those who are already using the model to post more, and those who haven't gotten wind of it yet to start taking advantage.
"Companies should absolutely check out Micro-Internships. I've gotten great feedback from my projects and I've had multiple supervisors say they would be posting additional projects because it's such an effective way of getting help."
---
Could your organization benefit from classroom-backed best practices? Post a Micro-Internship and start tapping into the knowledge, talent, and enthusiasm of students like Abe today!